Monica Ramey &
Beegie Adair
As interviewed by editor Daniel John Johnsson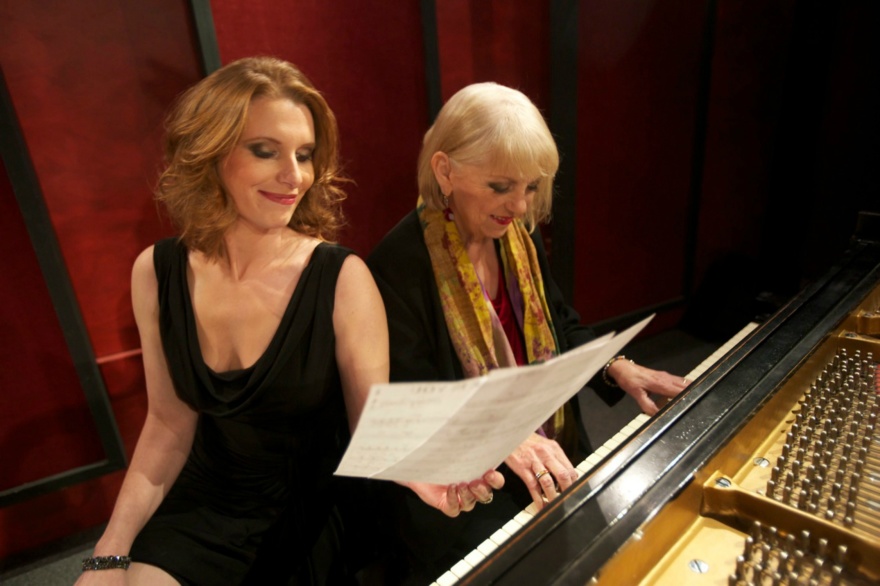 Through their shared love for music jazz-pianist Bobbe Gorin "Beegie" Adair and singer Monica Ramey found not just a working relationship but also a friendship that changed both of their lives.
Here in Scandinavia, Nashville is perhaps not as known for it's jazz-scene as it is known for harbo-uring some of the world's most renowned country singers and musicians. But here you are ...

Monica: While we certainly have some of the best country musicians in the world living and working in Nashville, it is "Music City USA" for a good reason. Many of the people playing and touring with the coun-try musicians we all know and hear are trained classical and jazz musicians. Many are jazz educators and that is because Jazz, Americana, Classical, Gospel and even Pop musicians chose to live, work and record here, thanks to our world-class studios and artistic community.

Our local media and Chamber of Commerce do a pretty good job of keeping these facts a secret.

But we love to brag on all of the great musicians who live in Middle Tennessee.

How would you "set the scene" for jazz musicians over there?

Monica: There are several places that host jazz throughout the week in Nashville, but only one true club, the Nashville Jazz Workshop. Beegie has a residency there and I'm a longtime friend, student and support-er of the school and venue. Regardless of where you chose to hear live jazz ...

There is a strong chance you'll hear world-class music.

You've both performed with great people before. But how did you find each other?

Monica: I was a student at the Nashville Jazz Workshop. Beegie was a teacher and took me under her wing. She was extremely supportive of me from the beginning and gave me one of my first major gigs. From the-re, we developed a dear and important friendship and that turned into a working relationship that has changed both our lives. She's a wonderful friend, boss and peer. I'm very lucky.

Beegie: Yes, I met Monica when she was a vocal student in one of my repertoire classes at Nashville Jazz Workshop. These classes focused on the great American composers, like Cole Porter, Jerome Kern, George Gershwin, and so on, and they are vital to young singers like Monica and other musicians as well. And, she was very talented and did everything right. It was really nice to see her grow and become a professional musician. She is also good at business as you may have noticed. We get along very well ...

Because we're on the same wave length on most things, personal and professional. It's been fun.

Monica is a native of Indiana and Beegie grew up in Kentucky? Do you perhaps share a similar back-ground in how you first got interested in music and how you later on approached that passion?

Beegie: Monica's mother was a music teacher and my grandmother was one of my mentors. She wasn't a musician but she could carry a tune and studied music a little bit to become an elementary teacher. She was the first person to insist I take music lessons. The support of the family, I think, in both of our cases, was vital. My parents had music on all of the time. I think Monica's parents did as well.

Coming up with music in your ears all of the time is an integral part of the atmosphere in which you grow up that will make you more cognizant of music than other children. I think that was a big factor for both of us and of course music was fun. By the time you get to high school, you want to listen to records and dance like the other kids, but it is more fun to know that you can also play or sing along with that.

What artists has influenced you throughout the years? How do you think they show ...

Monica: I listened to a lot of Broadway and pop music as a kid. I adored Barbra Streisand. Still do. I also lo-ved Peggy Lee and Rosemary Clooney. I loved seeing musicals and learning the songs from various shows to perform. I don't think I realized that my style of music was so different that other kids my age until I was a little older. I didn't care. I loved it. My Broadway roots certainly have enhanced my understanding of jazz. I think my appreciation of the lyric and interpretation of a song probably stems from listening to Streisand. I try very hard not to sound like anyone else ...

But no doubt elements of all the musicians I've studied throughout my life creep into my performance.

Beegie: Well, I listened to the music my parents had and they had every variety of music always playing in the house. My dad liked Western swing and the guys that sang on the Grand Ole Opry. My mother came from a larger city and was a little more sophisticated than my Kentucky family, so she knew how to jitter-bug and listened to Artie Shaw and Benny Goodman, Ella Fitzgerald and those people. So, I had a little bit of all of it coming in and out of my ears and I wanted to play all of it. I'd sit at the piano and fiddle around with the melodies. I also got a lot of movie music under my belt because I love musicals.

We had a small theater in my hometown and they'd show a musical at least once a week. I heard Doris Day and Debbie Reynolds and people like that singing in those movies. I'd go home and try to play those songs. That was the direction that got me going into the American Popular Songbook.

And that is where my heart lies.

The state of jazz has been talked about since, well, forever. Where do you think jazz is heading? Will there be another great explosion, such as with Brazill for example, with all-new influences?

Monica: The beauty and complexity of jazz is that it has always taken on a new life. There are so many "sub-genres" within jazz, so yes, I think it'll continue to grow and develop. However, I'm not sure it'll sound like anything else we've heard before.

My purpose, I think, is to preserve the history of the Great American Songbook.

Beegie: I agree with Monica. Jazz has changed from the time that I started playing jazz in the late 50's and early 60's. We were listening to Errol Garner and Oscar Peterson and we were just discovering Bill Evans who did a lot to change the way we heard chordal structures and things like that. Of course, the 70's were mostly pop music but some of the songwriters that come out of the 70's like Paul Simon and Billy Joel, Elt-on John and Barry Manilow wrote in the popular, older fashion style of actual songs that could become jazz tunes. Jazz changes with every generation. You hear it all of the time and people don't even know they he-ar it in commercials and movie themes. If you listen to the music in any major movie score, nine times out of out there will be jazz elements on the soundtrack.

Sometimes it is hidden, but it will always come back. I'm pretty sure we'll always have jazz, as Monica said. We just won't know, until we hear it, what form it is taking.

Would you say that the creative process differ depending on if you're creating and performing solo, as a duo or a trio? How might a collaboration like the one you have now depart from others?

Monica: Say you're sitting around a table with one or more people. As long as they are people you enjoy talking with and have a natural connection, you never run out of things to talk about. The number doe-sn't determine the fulfillment, but it certainly can establish how many layers and ideas are created.

A performance should be a musical conversation. It is all about having the right people with you.

Beegie: Playing solo, espcially on piano, is not a hard thing to do because you have the whole piano there. If you're a horn player or play most other types of instruments, it is more likely that you'll be playing with somebody. The piano player is sort of lucky to have that whole 88 key thing in front of you so that you can play the bass and the treble and everything in between. There is a certain kind of style that goes with pla-ying jazz solo. My favorite configuration is the trio. I like to have the drums and the string bass, and even a horn player or a singer at times to broaden the scope. For me, the byplay with other people playing has al-ways been my favorite thing playing jazz. I always say a good jazz trio, quartet or quintet is like a basket-ball team, a sport I loved when I was a kid. You throw the ball to one person, they catch it and throw to another person until somebody puts the ball through the hoop.

Maybe the horn player, maybe you.

'Some Enchanted Christmas' is a delicate, elegant and sincere jazz-retelling of the great American Christmas-songbook. How did you approach adapting such classic songs in your own way?

Monica: I've always wanted to make a Christmas album and having the privilege of making it with Beegie is dreamy. Beegie and I have a relationship, a signature duo performance style, that lends itself to a reco-rding such as 'Some Enchanted Christmas'. We decided, with the encouragement and guidance of our pro-ducers Jack Jezzro and Greg Howard, to find a list of our favorite holiday songs and songs that we'd eagerly perform live, if requested. Then, we added in a few tunes for the kids. Those that they like to sing out lo-ud. So, whether you're listening to it with your companion over a glass of wine or with the kids and the grandparents, there is something for everyone on this album. It is very accessible and pretty.

It is thoughtful and respectful of the classic songs as they were intended to be sung or played.

Beegie: I was intrigued with the idea of recording songs that children knew. I was a former elementary sc-hool music teacher, teaching first grade through sixth grade. I was familiar with a lot of the material but had never thought to put it on a record. When Jack came up with the idea that we should have something for the family on the album, I approached it the way I approached what I did in the classroom. The best th-ing you can do for children is to treat them as if they know what they're doing, because they do.

The way we approached those songs as if we were playing for a child and they would sing along with us.

Monica: With the exception on one very special tune on the album, we grew up listening to these tunes every holiday season with family, decorating the tree, at the school Christmas programs and while open-ing presents. We were once those kids who would get excited when 'Jingle Bells' would play on the Christ-mas records our family kept in the house. It didn't matter who was singing or playing.

We wanted to sing along.

I guess this question is already answered by the 14 songs on the album. But if you perhaps only got to choose one song each, which of the Christmas songs would you say is your own personal favourite?

Beegie: Just one favorite!? I'd say 'The Christmas Song'.

Monica: I'm partial to a song that will be new to most listeners called 'Wouldn't You Like An Old Fashion-ed Christmas' with lyrics written by Beegie Adair and a dear friend of ours, Bob Mater, wrote the melody. It has all of the ingredients for a timeless classic and I'm so thankful we were able to include it on this pro-ject. I've yet to sing through the entire song without crying.

Maybe next year.

What ingrediens is needed for a timeless Christmas classic?

Beegie: I think every song that becomes a vocal, has some element of a story including a beginning, middle and an end. The good Broadway writers, for example, capsulize almost a short story in a song's lyric and that's what keeps you listening. The American Popular Songbook is full of people who wrote like they we-re poets and everything rhymed perfectly. Now, we mostly hear imperfect rhymes.

So, I think the story is everything in a song.

Monica: This is both a very happy and sad time of year for many. We may not think of certain people until the holidays and songs that evoke the feelings and time passed are important.

Why are so many Christmas songs so universal you think?

Beegie: I guess it has to do with family and people being away from people or the things they love. A lot of the Christmas songs have to do with folks not being able to get home, like 'I'll Be Home for Christmas' and 'White Christmas' is about someone dreaming of snow while in Beverly Hills in Los Angeles. There's an element of nostalgia there. Also, songs like 'The Christmas Song' is like a painting of Christmas.

Each verse creates a visual of the ideal Christmas ...

Which is somewhat universal thanks to the sentiment of so many holiday tunes.

Monica: I agree with Beegie. It's nostalgic.

I guess a profound love for Christmas is often based in childhood. How do you look back at your own childhood Christmases in Indiana and Kentucky? What are your finest memories of such days?

Beegie: I was an only child and lived in my imagination a lot. I had books and toys but the first Christmas I remember was when I was three. My mother forgot to put out one of the packages under the tree. I reme-mber my mother jumping up in the middle of opening of gifts and she said "I'll be right back!" She came ba-ck with a gift and she told me that Santa had forgotten about the package. It was a little kitchen cabinet to play with for my dolls kitchen and I had really wanted it. I bought into the whole story that Santa was so busy that he left one of the presents in another room by accident. She saved the day.

It definitely makes me nostalgic since my parents are not with me any more.

I also remember our house always being filled with music. My dad would play the guitar and we'd sing 'Jin-gle Bells'. It was always pretty raucous and fun. I always loved it.

Monica: We would always open one gift on Christmas eve. Much to my dismay, it would usually be paja-mas that would match those my brother and sister would receive as well. But, it also meant that, Santa was coming down the cardboard-chimney and would maybe bring me a new Barbie doll or Cabbage Patch Kid. That was always a big treat. We almost always had snow, in my memories.

Living in Northwest Indiana, it would be very cold on Christmas. I miss that terribly.

How will you celebrate Christmas this year?

Monica: We actually celebrate Christmas together. My family is all over the country and Beegie is an im-portant part of my family, so we open gifts, eat Monkey Bread, watch Christmas movies in our pjs and then sip champagne later in the day with some other friends who may not have family nearby.

Low key magic!

Beegie: True! We also have at least one little get together with my trio and their significant others. We make a point of getting together every year to celebrate each other. We do the same with our producers, Jack and Greg, as well. In my life, my family is the friends you chose for yourself. I don't have any close relatives any longer, so we create those memories with our friends and those who become family.

We do the same things that everyone else does.

Monica: And, if we're lucky, we'll see a little snow!

Have you ever experienced the Scandinavian winter? Would you like to come?

Monica: I've never been. Yes! Yes! Yes! I would love that. If we were given the right opportunity to tra-vel and perform in Scandinavia and Sweden, it would be a lovely check off the list, indeed.

Beegie: I have been to many places around the world, but there are several where I'd still like to go. All of Scandinavia is fascinating to me ... the art, the music and the Swedish design.

Some of my friends have played there and really loved it. I'd very much like to as well.

Any Christmas greetings to our readers before they listen to 'Some Enchanted Christmas'?

Beegie: Well, I'd like to wish the best wishes for a holiday season for everyone, whichever way you spend your holiday. Be safe. Be warm. I hope you have family with you and friends.

Lots of good food and drink and lots of good music.

Monica: And, I'll simply add that I hope, however you celebrate, you're happy.

Happy Holidays!
Interviewed by editor:
Daniel John Johnsson