As interviewed by editor Daniel John Johnsson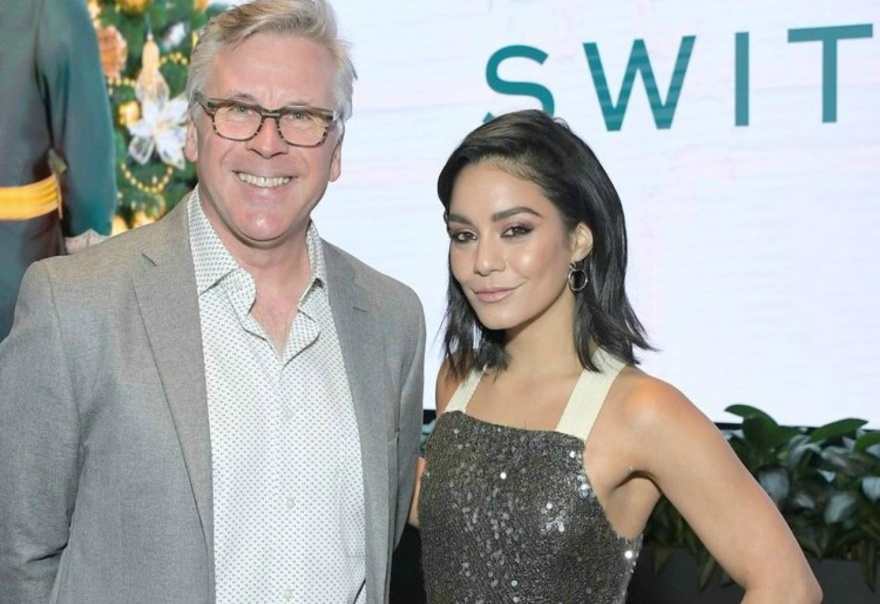 Mike Rohl is the director of the Vanessa Hudgens-gilded 'The Princess Switch' on Netflix. A film that pour suger sweet Christmas-spirit over the classic formula of dobbelgangers changing lives with one another.
Stacy is a young baker who runs a pastry shop in Chicago and while entering into the world's most prestigious pastry competition in Belgravia, she meets lady Margaret, Duchess, and also perfectly identical to her. What follows is a doppelganger-comedy where the two switch roles. Stacy becomes the princess, Margaret becomes "the girl next door". What made you want to direct this story?
– Vanessa Hudgens! When Brad Krevoy, our Executive Producer, gave me the script to read he had already secured a partnership with Netflix and had made a deal with Vanessa to be the star of the movie. That was exciting right from the get go. I was already very familiar with Vanessa's work and was a big fan. I had recently enjoyed her performance in 'Grease: Live' and so she was very much front of mind at that time.

After having a great time reading Robin Bernheim and Megan Metzger's script and seeing it in my minds eye with Vanessa doing the Stacy and Margaret role, I got super excited.

And instantly saw the potential for a very playful, positive and funny Christmas movie.

This Kingdom of Belgravia, while obviously fictional as "Belgravia" doesn't exist in real life, also has some clear inspiration behind it. But most if not all of the film was actually shot over in Romania?
– I think the recent Royal wedding between Megan and Harry inspired us to create a story world that con-tained much of what people enjoy the most about an event like that. Old world regalness, the delicate nat-ure of an elevated sense of manners, decorum and duty, the uniforms and of course, the epic grandeur of historic architecture anchored in a rich European history. Romania provided a wonderful canvas. It is it-self steeped in a wonderfully rich history. We shot a large portion of the movie near the Hungarian border in the lovely city of Carei. Karolyi Castle, whose foundations where first laid in the mid 1600s, became our seat of the Belgravian Royal Family. Much of our crew were Romanians based out of Bucharest.

I was very impressed by the level of professionalism and knowledge they all brought to the project. In fact, taking a step back, I realize 'The Princess Switch' was quite an international affair.

Cast and crew wise we were represented by Romania, USA, England, Canada, Ireland, Wales, Scotland and Russia. No one had shot in Carei before so, for the time we were there, we were quite the novelty.

The movie was first announced in June this year? So when did you shoot it?
– We arrived in Bucharest April 18 to start prep. Our shoot lasted from May 21 to June 15. Spring and ear-ly summer had come and made shooting a Christmas movie very challenging. We needed to avoid as much greenery as possible and all snow had to be simulated. Also it got very hot ...

So sweaters, coats and hats were not the most comfortable things for the actors to wear.

The unlikely couple is both played by Vanessa Hudgens who, as always, is a delight to watch. She al-so seems to be having the time of her life playing the two. But I can also imagine there to be some challenges not only in terms of her performance and acting it out, but also filming and editing it?
– At first glance it appears that Vanessa is playing two roles but in fact, it's actually four. Vanessa plays Stacy, a baker from Chicago, then Stacy trying to be Margaret as well as Margaret, a Princess from Mo-ntenero, and Margaret trying to be Stacy! Each character needed to have their own accent and specific behaviour. Vanessa was very prepared and came in with some great choices. The most technical part of the movie was the twinning sequences. It was important that Vanessa was able to have someone to play the other role in all of the Margaret and Stacy scenes. We brought in Dewi Sarginson an actor out of London to be Vanessa's double and scene partner. She was a very good match.

First we would play a scene with Vanessa playing one of the characters with Dewi dressed as the other and then they would switch costumes and we would shoot the other half of the scene. Most of the scenes where Margaret and Stacy appear together I shot as a split screen or a wipe and choreographed as much movem-ent as possible with Vanessa in order to make the two characters feel as natural together as possible.

As a kind of "proof" shot, I had Vanessa shake hands with herself when they first met to add more realism. It came off well but was very tricky to shoot. Our on set Visfx supervisor Rick Steele and our Visfx team at Mr. Wolf in L.A. did a fantastic job with that shot and the dozens of other Visfx shots in the movie.

While the movie has an all-new Christmas twist, the "swaparoo" is a classic tale we've seen in movi-es such as 'Prince and the Pauper', 'Parent's Trap' and 'It Takes Two'. Did you make any conscious choices or references in regards to such previous works? Considering how iconic they are?
– I think that all the movies you've mentioned prove that audiences really respond to the twinning movie trope. They are iconic for a reason. It's a very fun story premise. We love to watch how the characters will respond to each other and to their new unexpected circumstances. The higher the stakes, the more we love it. We did take some inspiration from those movies for sure. I feel we honoured them with an occasional wink to their success while at the same time doing what they all did and that is to take the form in a new direction for a new audience. Besides, what's better than one Vanessa Hudgens?

How about two Vanessa Hudgens!?

Olivia, the kid who keep's their switch a secret, is played by Alexa Adeosun. She gives an amazing performance, quite rare for her age. But it's actually her very first role? How did you find her?
– In most cases auditioning is done in person at the office of a casting director. This time however our pro-duction was prepping in Bucharest so we had our casting director run a session in London and forward the tape to me for review. Casting did a great job and we had a lot of great choices for the role. It's funny, som-etimes actors are unable to make it to the casting office for their audition so they send in their own record-ing to be included in the tape. This is the case with Alexa. Her mom shot her audition at home on a hand-held iPhone! In fact I think Alexa was still wearing her school uniform at the time!

What I saw in the video was a relaxed, goofy and very charismatic young lady. She captured my attention
instantly. I knew if I cast her I might be taking a chance that she may get a little intimidated by the film-ing process as it was her first role. As it turned out, I had nothing to worry about.

She instantly became the centre of our new family and did a great job. I'm very proud of her and I'm sure it won't be the last we see of her. She has a bright future no matter where life takes her.

Both Vanessa and British actor Sam Palladio, who plays Prince Edwards, have a background in both movie- and stage musicals and both of them also delivers original music performance for the movie? Did their backgrounds play part in casting them for these roles or was that just a lucky break?
– Our first consideration was the high quality of their acting and of course their incredible success on ma-ny other productions. It actually became a lovely "bonus feature" that they had such a considerable music background. In fact, as it turns out, we did catch a very lucky break, something completely unexpected. When we brought Sam in to do his part of the vocals for the soundtrack, he offered up a song of his own called 'Bring the Snow'. He recorded it in Nashville and sent to us in Los Angeles. I loved it!

I loved it so much that I actually replaced the original song we had for the opening credits with his song! It's very good and is now being released world wide as a brand new Sam Palladio Christmas song!

How cool is that?!

What was the most fun part of directing the movie?
– We got very lucky with our cast on this movie, it was a kind of alchemy. Everyone got along very well, and produced a lot of great work, that's something that as a director I am very grateful for.

We all had a lot of laughs throughout the shoot.

Was there any particularly fun day on set?
– One sequence that stands out is the snow ball fight. All the snow in that scene is fake. We used a special kind of paper that sits and moves a lot like real snow. We pre-made snowballs by mixing the paper with water and then hid them in a snow bank so the actors could pick them up and pretend to pack a snowball. The thing is, you can't squeeze them too much or they'll get real hard. Poor Alexa got so excited during the filming that she forgot about that and ended up hitting Vanessa right in the face with a rather "unforg-iving" snowball. It stung a bit but Vanessa took it well. She's a trooper.

With everyone on the crew agape, she made everyone feel instantly at ease with her infectious giggle. We finished the sequence with softer snowballs and bigger laughs.

Another good memory is our after wrap dinners. Much of our creative bonding and idea spritzing happen-ed then. Our regular haunt in Carei was the Restaurant Nostalgia. Dinner was a loud and joyous affair that had many of the locals turning their heads. The centre of attention was often times Gina, Vanessa's mom.

We all called her Mama G.

This Hallmark-flavoured tradition of Christmas movies is quite new to Sweden. But with streaming platforms like Netflix and a wider range of releases that has really changed as of late. Why do you believe these movies have resonated so and for so long with movie-goers all over the world?
– I think these kind of movies do well because they tend to have positive universal themes and invoke a feeling of well being and happiness. Many of them are about finding true love at the most magical time of year. The audience can come along on a playful journey, no matter how silly, and enjoy Christmas through the eyes of characters that are relatable. They usually take place in a story world full of vibrant colour blended with music and song that many people have known all their lives.

I think they trigger nostalgia with feelings of childhood joy and connection with family.

While it's fairly new to us here, your own journey with Christmas movies began already as assista-nt director on the Olivia Newton-John and Gregory Harrison vehicle 'A Christmas Romance' in '94?
– Ha! 'A Christmas Romance' was my chance to watch a very good director in action. Sheldon Larry really knew his stuff. I learnt a lot about the special relationship between the cast and the director. I was his assi-stant so where he went I went. Meeting Olivia Newton-John was a treat.

I admit I was a little star struck. I'd been a huge fan since high school. And as fate would have it, twenty-four years later I would be working with Gregory again.

This time in the director's chair on Hallmark Channel's 'Chesapeake Shores'.

What made you pursue a career as a storyteller to begin with?
– In 1984 a group of friends and I decided to go out one Saturday night to an Improv theatre in Calgary called the Loose Moose Theatre Company. After watching the improvisors work that night I got hooked. Soon after, I became a member of that company under the tutelage of one of the world's foremost experts on improvisational theatre, Keith Johnstone. Keith is known around the world, especially in Scandinavia. It's there that I first experienced the thrill of creating story. It's there that I learned to express myself without falling prey to self editing. Improv soon led me to film school where I produced my first short film.
Ironically it was based on a Keith Johnstone story called 'The Cord'.

I'm not familiar with it ...
– 'The Cord' is a dark comedy about a young man named John who still lives with his mother. John's probl-em is that his umbilical cord was never cut. By the end of the movie we get to see an already dysfunctional Mother and Son relationship cross over into the surreal as John's "problem" goes away in the most bizarre fashion you could imagine. I was very much in my David Lynch phase at the time so the film does evoke a bit of an 'Eraser Head' milieu. It won several awards and got me on the road toward a career in directing.

While still in film school I worked as a day call lamp operator on a movie called 'Betrayed' starring Debra Winger and Tom Berenger. It was written by Joe Eszterhas and directed by Costa Gavras. I was in awe.

But as much as I tried to hang around set and watch Costa do his work, I was at the mercy of the gaffer John Bartley who had lots of jobs for me to do, mostly running lighting cable thru the woods in the middle of the night. John was very nice to me on that movie, he knew I had ambitions elsewhere but he was very suppo-rtive. He gifted me a great book called 'Masters of light'.

John went on to become very well known as the original Director of Photography on 'The X-Files.'

Which became your first very own feature?
– My first feature was shot in 1997. It was written by an actor friend of mine Colin Cunningham, who was in 'Falling Skies'. It was a comedy road movie called 'Zacharia Farted'. The movie followed the festival circuit and won awards in Sedona and Munich. This film was my ticket into directing as a career.

I had been an assistant director for several years and finally got my break when the movie was seen by Larry Sugar, the executive producer of a SyFy network show called 'First Wave'.

What role models did you have early on except for David Lynch?
– In the beginning I watched everything. I lived at my local art house theatre. My main influences were David Lynch, Martin Scorcese and of course Kubrick. Later, I discovered Michael Mann, Clint Eastwood, Bob Fosse, Francis Coppola, Michael Cimino and many others. Depending on the genre I'm shooting in, I think a little Marty is still there. I love his bold approach to shot making and getting raw with his narra-tive and performances. I work mostly in television now and television is a writers medium. My job there is less about expressing myself cinematically as it is supporting the shooting culture of the show. Don't get me wrong though, it's fantastic and I've had a chance to work and learn on some very cool and epic shows.

But lately movies have come back into my life and in different genres. My next movie will be for the Life-time network. It's a gothic thriller called 'Web of Dreams' and is based on the VC Andrews novel.

Today your body of work encompasses a plethora of different styles and genres, while 'The Princess Switch' is a fun, family Christmas movie, you've done things like 'Terminator' and 'The Mortal Ins-truments'. What are the benefits of such a "working philosophy"? Does it pave the way creatively?
– I have been very lucky to work on productions that vary greatly in their genres. It nurtures growth as a director because it affords one the chance to expand creatively by seeing the world from different story te-lling perspectives. That has been of great utility because you learn techniques unique to some genres that nowadays are more often likely to overlap into another. As a freelancer one of the challenges you face most is to make sure you master the genre you're working in, that you are adaptable and that you have lots of creative drive and ingenuity to the extent that you are able to make yourself indispensable to the produc-tion. Most of my career has been in Sci-fi and Thriller, luckily I'm a fan and have become very well versed in many of the tropes. It's a continual learning curve though. In order to survive as a director, you must keep up with the technology and the current trends in production. Things change quickly these days.

Above all you must create what ever circumstance you can in order to stay relevant. This business can be unforgiving and will easily pass you by if you're not always trying to improve and expand your skill set. I guess I'm lucky because for me it has always been a matter of course that I try to stay "adventurous" no matter what situation I find myself in. In the end my touchstone has always been the actors.

They are my lifeboat. If I can help an actor make his or her performance real enough that they are affected emotionally. I've done my job. Usually, the drive home that night is joyful.

Who would you prefer to trade places with for a few days if the opportunity arose?
– Trade places with? I know! Elon Musk's assistant! He must have one right? It would be great to be a fly on the wall at some of his super secret high end corporate meetings!
Interviewed by editor:
Daniel John Johnsson