As interviewed by editor Daniel John Johnsson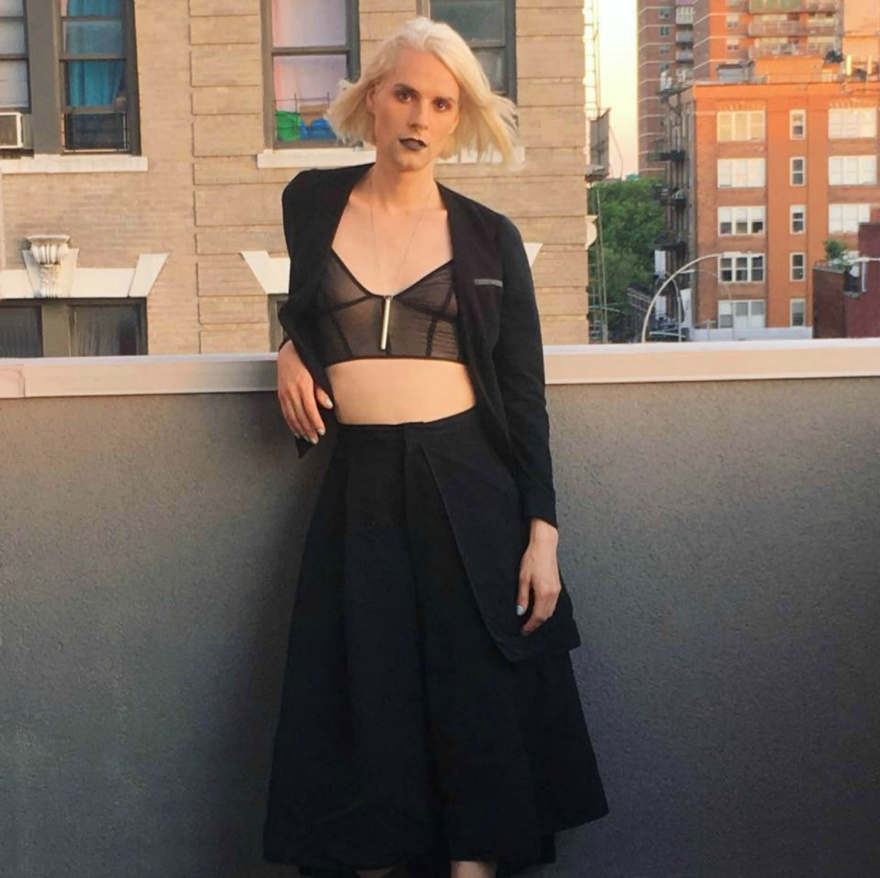 German novel 'So Schön' is being adapted into an New York-narrative. And with Beyoncés 'Lemonade' on her resume we'll take Jessie Jeffrey Dunn Rovinellis word for it when she says it'll be nice to look at.
Perhaps most of all ... you actually has some credit on Beyoncés 'Lemonade' videos?
– I was just an a finalizing colorist and assistant and online editor on it. I was basically called in for the last few days by Bill Kirstein, who worked with her a lot and directed some of her music videos, to help pull it together in the final push. It was fun and I'm proud to have worked on it but I can't pretend I had a huge creative input on the final project. But Bill's experience working with major stars like Beyoncé and Justin Timberlake has been a good perspective to bring to our rather different work together, just as a way of thinking about treating our subjects as stars and performers and not just as objects to be filmed or obser-ved. It's important to grant that same form of aesthetic and creative importance to my collaborators on films like 'So Pretty' or 'Empathy', to give them that same power within the medium.

Still looks nice on the resume. Although you're perhaps most actually known for the feature docum-entary 'Empathy' which did very well at festivals a few years back. Did that open any doors?
– It never hurts to win awards, and it's certainly satisfying to get a little institution recognition, even if one is always a bit skeptical of how much we invest in such things. But it's important and of course it helps you. I'm deeply indebted to the Centre Nationale des Arts Plastiques ... CNAP ... in France, which gave 'Empathy' its first prize, and which then provided initial funding for our second film.

They've been incredible and their faith in my working methods let us keep going down the path of film-making I'm pushing. At the same time, I have to admit that what mattered to me the most with 'Empathy' was positive feedback from sex workers. I remember coming out of the premiere knowing that my friend who was an escort was in the audience and my heart was beating so fast in terror that they'd think I fuck-ed up. It's so important to me that my films are able to resonant with the audience they feature as much or more so than with a filmmaking public. I think it's important to make works the community involved in making them can stand behind before moving towards the public ...

Even if I try to make a lot of space for the public to enter films that can be a bit formally challenging.

So your next film 'So Pretty' will actually be an US and French co-production?
– Yeah, we're working with Judith Lou Lévy at Les Films du Bal. She's great, and was instrumental in ma-king sure things with CNAP worked out. She's also produced some films that were very important to me.

So it's exciting.

The film is actually based on the German novel 'So Schön' by Ronald M. Schernikau?
– I discovered the novel while visiting Thomas Love, who plays in 'So Pretty', in Berlin a few years ago. He'd been with Markues, who will also be in the film, and Markues was reading it aloud at an art event, I think. Thomas couldn't understand the German very well ...

But somehow he knew it would resonate with me, and I bought it on a whim.

Has it even been translated into English?
– It's untranslated, but we're hoping that this film might make a translation possible, as I think it's remar-kably contemporary in how it relates ideas of interpersonal style and posture with politics and queerness. In a way, making this film is just me trying to translate it myself.

And in my own way, to my own time, place, and gender.

What was it about it that appealed so much to you?
– There was something in the little description that resonated with me, in how it describes very precisely the way someone stands in a doorway, holds their wrist, drinks coffee, wears their hair. There's a very delicate interplay between these kinds of very small, very clear gestures and the interpersonal and the political that struck me, that resonated with how I try to move through the world, what excites me in my daily life. It's very tender but still politically committed.

Something in those gestures stuck with me and gave me something to orient myself around in my personal life, and in those floundering moments trying to imagine a second feature, I kept returning to it. And again, I was just sad that it was untranslated and that my friends couldn't read it ...

So this is my way of making it available to my community.

So for those who are yet to read it. What is it about?
– The novel is incredibly simple. It's just four gay communist men in West Berlin in the 1980's who go dancing, chat, organize, and have a little romantic drama between two couples, have an injury at a protest. Everything works out. It's a very simple story, but those small moments resonate.

Will the film differ from the novel in any way?
– We're changing it a bit, but not really in terms of plot, more in terms of approach and characters, adding people of color and trans people instead of the white cis-gay cast of the novel, making it about femininity rather than homosexuality. We're also including the actual book within the film, where it becomes perh-aps a sort of icon, but an icon we still have to critique or pull apart a little bit. And of course, I'm making the artistic practices of my actor-participants very present, their music and visual art.

I'm thinking, for instance, that the original took place in Berlin. And I'm guessing you will shoot the film in New York. Won't that change of scenery and contemporary-setting reshape the story?
– Yes, my film has just a few scenes in Berlin, and is mostly in New York. We just shoot it as it has to be now, in our proto-fascist moment, in the particularities of sex, race, and gender in New York City. I'm not a historian, I can't tell you much about Berlin in the 80's save what the novel and the people I've met who lived there then tell me. For me, this film is about looking at how that history travels across the Atlantic, how it informs this moment and stays with us as one current of politics and queerness among many.

But there does seem to be this same desire to dance, to become, to imagine something better.

Do you still think it's an important story to tell?
– Yes, so I'm telling it. It would be so easy to despair, I'm certainly in despair in a lot of ways, so it's really meant a lot to cling to the book's subtitle ... "A Utopian Film". Schernikau had written it as both a novel-istic screenplay and as an image of utopia in the shit of here-and-now, and I've really clung to this in my personal life as things seem to fall apart. It's very hard to do, but I'm trying to take his impulse seriously, to imagine the possibilities of utopia right now, not later. You can do this, really.

This film tries to do this. You can do this without discounting all the horrors, and in fact to do this you have to engage with how we deal with those horrors. It's an exercise I'm forcing myself to do.

And I find it helpful. I hope this joy will come through for others.

Did the novel play any part in your own gender transition?
– Yes, because it didn't matter to me that these characters were not trans women. It's a bit hard to explain, because I am not and have never been a gay man, but a novel where femininity was something picked up freely seemed so joyful, gave me space when so much of the queer community was asking me to claim womanhood in a very specific way in order to be recognized. In a way, not mattering whether or not I was a man gave me space to finally stop being a man. And then, it was easy to realize, yes, I want to be a wom-an. I am a woman and I make films, and so I am making this film.

This film, too is about opening that space where what you look like and how you act and how you care is far more important than the gender you are, in the hopes that this will open the door to other girls like me.

'Empathy' took on a documentarian style. What narrative-style will this film have?
– If 'Empathy' was a documentary that used the tools of fiction, this is a fiction that uses the tools of docu-mentary. In many ways its a very similar approach and shooting style, giving a great deal of freedom to our participants but working with an extremely rigorous camera.

The form is extremely controlled, but the participants will be able to define their movements.

You're shooting it on super 16mm?
– Celluloid is gorgeous, and this film is called 'So Pretty', is the short answer. Its been liberating to be real-istic about the fact that yes, I know what beauty is and I like it and care about, rather than being wrapped in a sort of intellectual self-criticism and hatred of simple affective responses as I was for so long.

There are a lot of other reasons of course, but that seems the most pertinent.

Will you continue to work with cinematographer Bill Kirstein on this one?
– Yes, Bill is totally essential to my process. We've developed a long-take super careful shooting style together, and we're pushing it even farther with this one. It's a very distinct look and right now I can't imagine working with anyone other than him, with his incredible sense of classical beauty, his gentleness on set, and his readiness to carefully develop a style alongside me.

We're in constant communication, pushing each other.

Is there any other directors that has influenced your own work?
– I'm only influenced directly by directors whose work I don't like much but which contains something I respect, a way of editing, framing, approaching the subject, whatever, that I want to "rescue".

The directors I love I'm sort of too overwhelmed by to really try to take direct influence from.

So let's talk some about the actors. You always cast from where you stand?
– My actors have always been from the community in which I reside, and I'm keeping that going. In this case it was the people that have shaped my own approach to femininity, aesthetics, and politics as social action. And so all of those perspectives will be worked into the film by literally including those people.

They're all incredible and have pushed my thinking in so many ways.

And they're so pretty.

That's always nice isn't it. Where are you in the making of the film now?
– We're currently in pre-production and will be shooting at the end of September.

Will this film take the festival route as well?
– One certainly hopes so. If all goes well, the film will probably come out in 2019. Honestly, it's important to me that this film comes out as fast as possible because it is so invested in the present moment.
Interviewed by editor:
Daniel John Johnsson